Oregon is the ideal vacation spot for nature enthusiasts who love hiking. There are breathtaking hiking trails in this state that offer a variety of scenic views. Crater Lake National Park, Mount Hood, and Columbia River Gorge are popular destinations for hikers. Oregon is a hiker's paradise with a lot of trails, forests, and rivers.
Oregon is an absolute paradise for nature lovers, with stunning mountains, lush forests, and miles of breathtaking coastline. But one of the best ways to fully immerse yourself in Oregon's natural beauty is by exploring the hiking trails scattered throughout the state. From stunning waterfalls to towering peaks and verdant forests, Oregon offers hikers of all levels an unforgettable experience.
1. Multnomah Falls Loop Hike
Located in the Columbia River Gorge, the Multnomah Falls Loop hike is a must-see for anyone visiting Oregon. The trail starts at the famous Multnomah Falls, which is the second-highest waterfall in the United States. The hike covers 2.6 miles, and though it can be steep at times, it's well worth the effort. Along the way, you'll enjoy stunning views of the Columbia River Gorge and multiple waterfalls. Don't forget to snap a photo at the Benson Footbridge, which offers an amazing view of the falls.
2. Tamanawas Falls Hike
The Tamanawas Falls hike is perfect for those looking for a moderate hike with a beautiful payoff. Located near Mount Hood, this 3.8-mile hike takes you through a lush forest before arriving at the majestic Tamanawas Falls. The waterfall drops 100 feet into a crystal-clear pool, making it an ideal spot for a refreshing swim on a hot day.
3. Cape Lookout Trail
With three miles of beautiful coastline, the Cape Lookout Trail offers some of the most stunning views in Oregon. The trailhead is located just an hour and a half from Portland, making it a popular day trip destination. The trail stretches 5.2 miles round trip and is relatively easy, with only a few moderate inclines. Make sure to keep an eye out for whales, sea lions, and other marine life while enjoying the beautiful views of the Pacific Ocean.
4. Angels Rest Hike
The Angels Rest hike is a challenging yet rewarding hike that showcases the best of the Columbia River Gorge. The 4.6-mile trail is steep and rocky at times, but once you reach the summit, you'll be rewarded with breathtaking views of the Gorge and the surrounding mountains. Make sure to bring plenty of water and snacks for this hike, as it can take several hours to complete.
5. Opal Creek Trail
The Opal Creek Trail is a 6.5-mile hike that takes you through the lush forests of the Opal Creek Wilderness. The hike starts at the Opal Creek Trailhead and follows the Little North Santiam River, passing by multiple waterfalls along the way. The highlight of this hike is the stunning Opal Pool, a crystal-clear swimming hole that looks like something out of a fairy tale.
These are just a few of the many hiking trails in Oregon that showcase the state's natural beauty. Whether you're a seasoned hiker or a beginner, there's a trail in Oregon that will take your breath away. So pack your hiking boots, grab your water bottle, and get ready to explore the great outdoors.
| Trail | Location | Distance | Difficulty |
| --- | --- | --- | --- |
| Multnomah Falls Loop Hike | Columbia River Gorge | 2.6 miles | Moderate |
| Tamanawas Falls Hike | Mount Hood | 3.8 miles | Easy |
| Cape Lookout Trail | Pacific Coast | 5.2 miles | Easy |
| Angels Rest Hike | Columbia River Gorge | 4.6 miles | Difficult |
| Opal Creek Trail | Opal Creek Wilderness | 6.5 miles | Moderate |
For more hiking destinations across the U.S., check out these articles on hiking trails in Alaska, Arkansas, Colorado, and California.
Discover the Beauty of Alaska's Great Outdoors: Top Hiking Trails to Explore
Hiking Trails in Arkansas: Explore the Natural Beauty of The Natural State
Hiking Trails in Colorado: Explore The Highest State on Foot
Hiking Trails in California: Discover The Golden State's Natural Beauty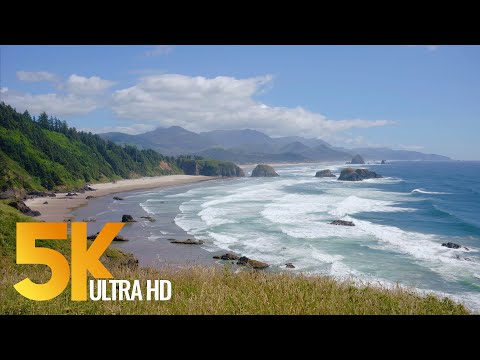 Exploring the Best Hiking Trails in Oregon
1. What are some of the best hiking trails to explore in Oregon?
There are numerous hiking trails in Oregon, each offering a unique experience. Some of the top trails include Smith Rock State Park, Crater Lake National Park, Three Sisters Wilderness, and Mount Hood Wilderness.
2. What is the best time of year to go hiking in Oregon?
The best time to go hiking in Oregon is from late spring to early fall when the weather is warm and dry. However, some trails may be accessible year-round depending on the weather conditions.
3. Are the hiking trails in Oregon wheelchair accessible?
Although not all hiking trails in Oregon are wheelchair accessible, there are a few that provide accommodative access. Some of the wheelchair-friendly trails include the Wildwood Trail in Forest Park, Tualatin Hills Nature Park, and Tryon Creek State Natural Area.
4. Can I bring my pet dog along on the hiking trails in Oregon?
Yes, dogs are allowed on some hiking trails in Oregon, but they must be kept on a leash and under control at all times. However, some trails do not allow pets due to safety concerns, so it is best to check before heading out.
5. What safety precautions should I take before heading out for a hike?
Before exploring the hiking trails in Oregon, it is important to check the weather conditions and trailhead rules. Always carry enough water, snacks, and appropriate gear, and tell someone your planned route and expected return time. It's also crucial to avoid hiking alone and be aware of any wildlife or potential hazards.