New Jersey offers some of the best hiking trails in the country. From the iconic Appalachian Trail to the challenging Delaware Water Gap, hikers can enjoy a breathtaking beauty of nature while getting fit at the same time. So, whether you're an experienced hiker or a beginner, the Garden State has something truly special to offer.
Are you an adventurer looking to explore the beauty of nature? Then, New Jersey is the perfect place for you! With over 50 state parks and forests, New Jersey offers some of the most picturesque hiking trails that will leave you mesmerized. From mountain summits to cascading waterfalls, the hiking destinations here are perfect for beginners and experts alike.
Find Your Perfect Trail
New Jersey is home to some of the best hiking trails in the United States that are well-suited for a wide range of interests and skill levels. Whether you want to hike alone, with your dog, or with your family, there is something for everyone in New Jersey. Here are a few options for you to choose from:
1. The Palisades Interstate Park
Located in the northeastern part of New Jersey, the Palisades Interstate Park offers a 12-mile hike to the summit of Hudson River's cliffs. This trail is for intermediate hikers and offers expansive views of the New York City Skyline.
2. Worthington State Forest
If you're looking for something challenging, Worthington State Forest would be a great option. Situated along the Delaware River, the park offers multiple trails that lead to the summit of Mount Tammany. The Tammany Red Dot Trail is a popular route for hikers and offers some breathtaking views of the Delaware Water Gap.
3. The Delaware and Raritan Canal State Park
Looking for something easy? Check out the Delaware and Raritan Canal State Park. With more than 70 miles of hiking and biking trails, the park offers an easy and scenic walk along the canal towpath. You will encounter wildlife, historic sites, and unique towns along the way.
If you're looking for a complete guide on the best hiking trails in New Jersey, check out Park Guider's New Jersey guide.
The Best Time to Hit the Trails
New Jersey offers hiking opportunities throughout the year with trails that are open on all days. However, the best time to hike in New Jersey is during Spring and Fall. During these months, the weather conditions are mild, and the scenic beauty of the trails is at its peak. Summer hiking can also be enjoyable but it can get too hot and humid at times.
Safety Tips for Hiking in New Jersey
Before you head out to hit the trails, it's essential to keep yourself safe. Here are a few tips that you should consider:
1. Research your trail.
Researching your hiking trail can help you prepare for the hike ahead. Learn about the trail conditions, distance, elevation, and difficulty level before you hit the trails.
2. Bring the essentials.
It's critical to bring essentials such as water, food, and first aid kits when hiking. It's also essential to wear proper hiking shoes and clothing to ensure your safety.
3. Check the weather.
Before you head out, check the weather forecast to be aware of any potential bad weather conditions. If the weather looks bad, it's best to reschedule your hike for another day.
Conclusion
New Jersey offers some of the best hiking experiences any adventurer could ask for! From beginner to expert, you can find trails that will satisfy your urge to explore nature. By following the safety tips, you can ensure a safe and enjoyable hike. So, pack your bags and hit the trails, explore the beauty of nature, and fall in love with hiking all over again.
Looking for more hiking adventures? Checkout out these hiking guides from Park Guider's website: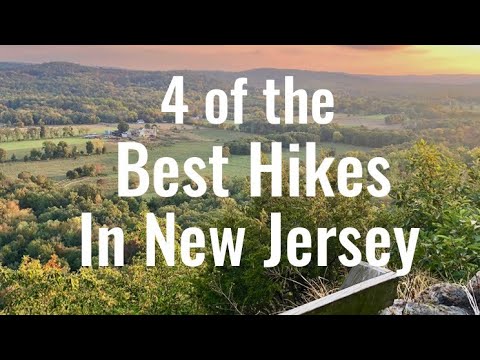 Which are the best trails for beginner hikers in New Jersey?
If you're a beginner hiker in New Jersey, you can start your hiking journey by exploring easy trails such as the New Jersey Botanical Garden, the Paulinskill Valley Trail, or the Flatbrook-Roy Wildlife Management Area. These trails provide a great introduction to hiking and help you build your stamina before moving to the more challenging trails.
Do I need a permit to hike in New Jersey?
No, you don't need a permit to hike in New Jersey's hiking trails. However, some hiking trails may require you to pay for parking or admission fees. Additionally, some trails may require a permit for camping or backpacking.
What should I bring for a day hike in New Jersey?
It's important to pack the right gear and supplies for your day hike in New Jersey. You should wear sturdy hiking boots, bring plenty of water and food, and pack sunscreen, a hat, and insect repellent. You may also want to bring a first-aid kit, a map of the trail, and a whistle in case of an emergency.
Are there any pet-friendly hiking trails in New Jersey?
Yes, there are many pet-friendly hiking trails in New Jersey, such as Ramapo Valley County Reservation, Schooley's Mountain County Park, and Thompson Park. However, some trails may have specific rules about pets, such as requiring dogs to be on a leash at all times.
Can I hike in New Jersey during the winter?
Yes, you can hike in New Jersey during the winter. However, you need to be prepared for colder temperatures, snow and ice-covered trails, and shorter daylight hours. It's important to wear warm layers, bring traction devices for your boots, and pack extra food and water in case of any emergencies.