Nebraska boasts an abundance of natural beauty through its picturesque hiking trails. Some of the top hiking trails to explore are Chimney Rock National Historic Site which offers unparalleled views of Nebraska's high plains, Niobrara State Park with its stunning waterfalls and Scotts Bluff National Monument where one can experience the unique geologic history of the Great Plains. Pack your hiking gear and embark on a journey of nature and adventure in Nebraska.
Unleash Your Love for Hiking: Discover the Beauty of Nebraska's Top Trails
Are you an avid hiker looking for your next adventure? Nebraska might not be the first place that comes to mind, but this Midwestern state offers some of the most beautiful trails and vistas in the United States.
Whether you're a beginner or an experienced hiker, there's a trail in Nebraska that's perfect for you. From towering sand dunes to lush forests, Nebraska's diverse landscapes provide plenty of opportunities to explore and connect with nature.
In this article, we'll highlight some of the best hiking trails in Nebraska that are worth exploring. So grab your hiking boots and gear up for an unforgettable adventure.
Scotts Bluff National Monument Trail
If you're looking for a hiking trail that offers stunning panoramic views of Nebraska's landscape, look no further than the Scotts Bluff National Monument Trail.
Located in Gering, Nebraska, this trail offers a challenging 3.4-mile hike that takes you up to the top of Scotts Bluff National Monument. Along the way, you'll discover breathtaking views of the North Platte River Valley, Chimney Rock, and Courthouse and Jail Rocks.
Toadstool Trail
The Toadstool Trail in Northwest Nebraska is the perfect trail for those who love unique rock formations and beautiful desert landscapes. This trail is a 1.5-mile loop that takes you through badlands, rock formations, and mazes. You'll get the chance to see unique rock formations that look like toadstools and breathtaking views of the surrounding landscape.
Homestead Trail
The Homestead Trail offers a serene and peaceful hiking experience perfect for hikers of all levels. Located in Beatrice, Nebraska, this trail stretches for 28.5 miles and offers a beautiful view of the countryside.
The Homestead Trail passes through the historic Homestead National Monument of America and various small towns, making it a perfect choice for a weekend hiking retreat.
Platte River State Park
Platte River State Park is a hidden gem in Nebraska, offering beautiful views of waterfalls, forests, and wildlife. The park has a network of ten miles of trails, perfect for exploring the beauty of the park.
The park offers hiking trails for all levels, from easy to moderate to challenging, so you can choose the right trail for your skill level. The trails take you through lush forests, over rocky terrain, and alongside the beautiful Platte River.
Indian Cave State Park
Indian Cave State Park is another must-visit location in Nebraska if you're an outdoor enthusiast. The park offers over 20 miles of hiking trails, winding along the Missouri River and offering stunning views of the surrounding bluffs and forested hills.
If you're looking for a challenge, the 12-mile Steamboat Trace Trail is an excellent choice. This trail takes you through railroad and river history while offering beautiful views of the Missouri River valley.
Explore the Natural Beauty of Nebraska
With so many beautiful hiking trails in Nebraska, it's no wonder it's becoming a popular destination for outdoor enthusiasts. Whether you're looking for a challenging hike with breathtaking views or a serene trek through lush forests, Nebraska has something for everyone.
If you're looking for more hiking trail inspiration, be sure to check out these other great guides on Parkguider.com:
So pack your bags, hit the trails, and discover the natural beauty of Nebraska on your next hiking adventure.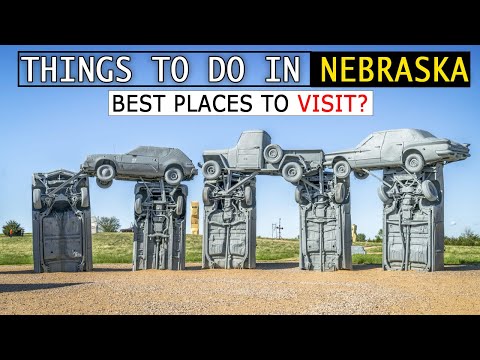 FAQ 1: What makes Nebraska's hiking trails unique?
Nebraska's hiking trails are famous for their natural beauty and unique landscape. While not known for its mountains or coastal trails, Nebraska offers rolling hills, stunning vistas, and deep canyons, thanks to its geological history. The state's hiking trails are diverse and packed with a variety of flora and fauna.
FAQ 2: Is hiking in Nebraska only for experienced hikers?
No, hikers of all levels will find trails that suit their level of experience. Some trails are relatively flat and well-marked, while others are more challenging with steep inclines and varying terrain. However, it's essential to research the trail before embarking and carry appropriate gear and provisions, especially for more challenging hikes.
FAQ 3: What are the best trails in Nebraska to see wildlife?
Several trails offer opportunities to spot a range of wildlife species. The Fontenelle Forest Nature Center, Platte River State Park, and the Niobrara National Scenic River offer some of the best wildlife spotting opportunities in the state. It's important to remember to keep a safe distance from the animals and not to disturb their natural habitats.
FAQ 4: Can I bring my dog on the hiking trails in Nebraska?
Yes, several Nebraska hiking trails allow dogs, provided they are on a leash and under control. However, some trails may have specific regulations, like cleaning up after your pet. It's always best to check with park officials or guides before bringing your dog on the trail.
FAQ 5: What is the best time of year to hike Nebraska's trails?
The best time to hike Nebraska's trails is during the spring, summer, and fall months when temperatures are moderate. It's essential to check trail conditions and weather updates before heading out on a hike, especially during the winter months when snow and ice can make trail conditions unpredictable.