Discover the Best Hiking Trails in Georgia and immerse yourself in the beauty of nature. Experience the delightful sights and sounds of waterfalls, wildlife, and forests. Whether you're a beginner or an expert, the state has something to offer to all hikers. With over 60 mountains to climb and countless trails to follow, Georgia is a hiker's paradise. To make the most of your hiking experience, bring plenty of water, wear appropriate clothing and good hiking shoes, and don't forget to pack a map and a compass.
Best Hiking Trails in Georgia: Experience Nature's Delight
Are you ready to explore the great outdoors? Look no further than Georgia, which boasts some of the most beautiful hiking trails in the United States. From majestic waterfalls to rolling hills to breathtaking views, Georgia has something for every level of hiker. Whether you're an experienced hiker or a beginner, here are some of the best hiking trails in Georgia for you to discover.
1. Appalachian Trail
The Appalachian Trail runs for about 80 miles in Georgia, offering stunning views of the Blue Ridge Mountains. The trail is known for its steep inclines and rocky terrain, so it's best suited for intermediate to advanced hikers. However, it's worth the challenge for the breathtaking vistas you'll encounter along the way.
2. Amicalola Falls Trail
Amicalola Falls Trail is one of the most popular hiking trails in Georgia due to its accessibility to all skill levels. At 729 feet, Amicalola Falls is the tallest waterfall in the Southeast, and the hike up to the top will reward you with picturesque views of the surrounding mountain landscape.
3. Brasstown Bald Trail
If you're looking for a challenge and a picturesque view, the Brasstown Bald Trail is the one for you. The trail stands at 4,784 feet above sea level, making it the highest peak in Georgia. The climb can be difficult, but the view from the top is absolutely stunning. On a clear day, you can see four states: Georgia, Tennessee, South Carolina, and North Carolina.
4. Blood Mountain Trail
Blood Mountain Trail is a must-visit for all hiking enthusiasts. With an elevation of 4,458 feet, it's one of the most popular hikes in Georgia. The ascent is challenging, but the reward of the panoramic views makes it all worthwhile. Don't forget to stop by the Blood Mountain Shelter- a popular spot for hikers on the Appalachian Trail!
5. Providence Canyon Trail
Dubbed as the "Little Grand Canyon," the Providence Canyon Trail offers hikers a unique experience of exploring beautiful sedimentary rock formations. The canyon spans nine miles and has beautiful streams, vibrant flora, and fauna to explore amidst rugged rock faces.
6. Tallulah Gorge State Park Trail
For thrill-seekers who also love to hike, the Tallulah Gorge State Park Trail will offer an exciting adventure. Hikers can explore beautiful waterfalls, cross a suspension bridge over the Tallulah River, and descend the stairs to the canyon floor for even better views.
Here is a comparison table of the trails mentioned:
| Trail | Distance | Difficulty | Highlights |
| --- | --- | --- | --- |
| Appalachian Trail | 80 miles | Intermediate | Blue Ridge Mountains, scenic views |
| Amicalola Falls | 2.1 miles | Easy | Waterfall, mountain views |
| Brasstown Bald | 0.6 miles | Difficult | Highest peak in Georgia, 4 state views on clear days |
| Blood Mountain | 4.1 miles | Intermediate | Panoramic views, Appalachian Trail Shelter |
| Providence Canyon | 9 miles | Moderate | Sedimentary rock formations, vibrant flora and fauna |
| Tallulah Gorge | 1.25-3 miles | Moderate to | Waterfalls, suspension bridge, canyon floor descent |
| | | Difficult | |
Conclusion
Georgia has some of the most beautiful hiking trails in the country, with stunning views and challenging terrain that are worth the effort. Whether you're a seasoned hiker or a beginner, there's a trail in Georgia that's perfect for you. Pack your bags and embark on an adventure to discover the natural beauty that Georgia has to offer!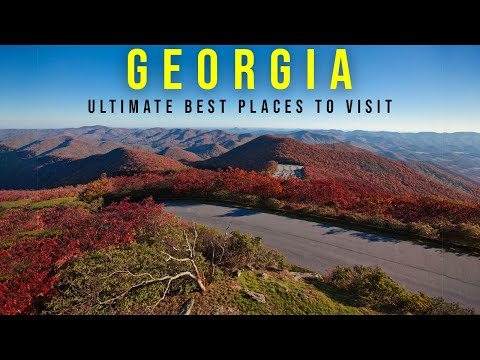 Where are the best hiking trails located in Georgia?
Georgia is a paradise for hikers, with national parks, state parks, and forests scattered throughout the state. Some of the best hiking trails in Georgia can be found in Chattahoochee National Forest, Tallulah Gorge State Park, Amicalola Falls State Park, and Cloudland Canyon State Park.
What are the best times to go hiking in Georgia?
The best time to go hiking in Georgia is during spring and fall when the temperatures are mild and pleasant. Summers can be hot and humid, while winters can be unpredictable, with occasional snowfalls. It is advisable to check the weather forecast before planning a hiking trip to Georgia.
What gear do I need for hiking in Georgia?
When hiking in Georgia, it is advisable to wear sturdy boots, comfortable clothes, and a hat to protect you from the sun. You should also bring a backpack, water bottle, snacks, insect repellant, and sunscreen. If you are hiking in the mountains, you may need additional gear, such as a hiking stick, warm clothes, and a rain jacket.
Are there any guided hiking tours available in Georgia?
Yes, there are several guided hiking tours available in Georgia for those who want to explore the best hiking trails with an experienced guide. Some popular tours include the Atlanta Beltline hiking tour, the Waterfalls and Wine hiking tour, and the Appalachian Trail day trip.
Are dogs allowed on hiking trails in Georgia?
Yes, dogs are allowed on many hiking trails in Georgia, but it is important to keep them on a leash and clean up after them. Some parks may have restrictions on pet access, so it is advisable to check with the park authorities before bringing your pet on a hiking trip.